How to Make Forest Dragon
I started by sculpting a general shape out of polymer clay. This sculpture will be framed so I only need to make the head, neck, and shoulders. I wanted the piece to look more like the Dragon was poking his head through a window and not like a mounted head.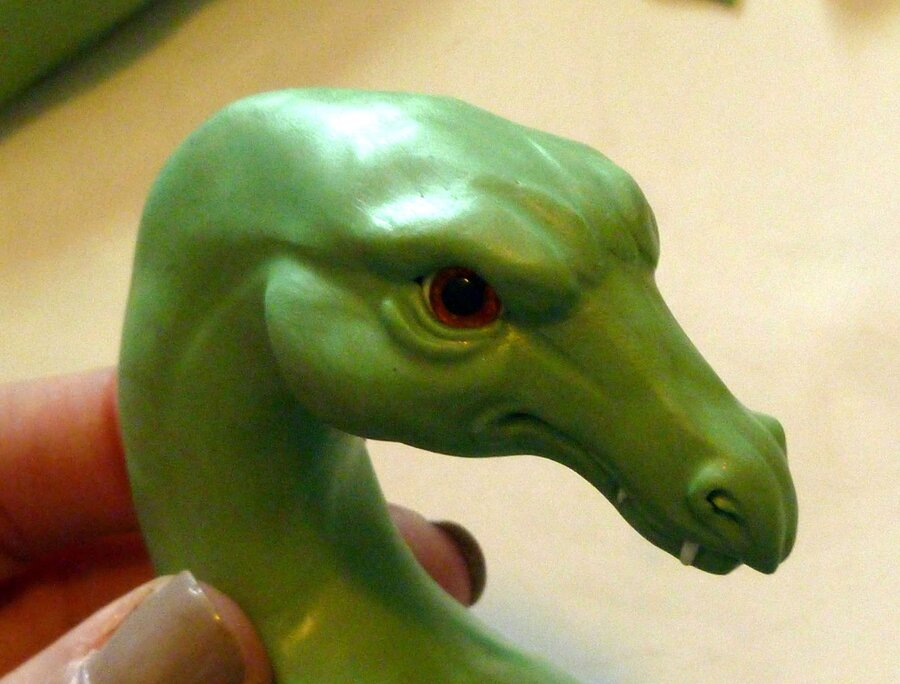 Glass bead eyes are placed into the head and details are sculpted into the clay. The sculpture is starting to look more like a dragon now. Using a pointed tool and a rubber-tipped tool, I give my dragon a mouth where I can place his small teeth and then sculpt some nostrils.
I know I want this dragon's body to be covered in leaf scales so I begin with the background, where I want his body to appear to be coming from. I make some polymer clay canes (a rod of polymer clay consisting of two or more colors that form an image). I cut pieces from the canes and form each piece into a leaf shape.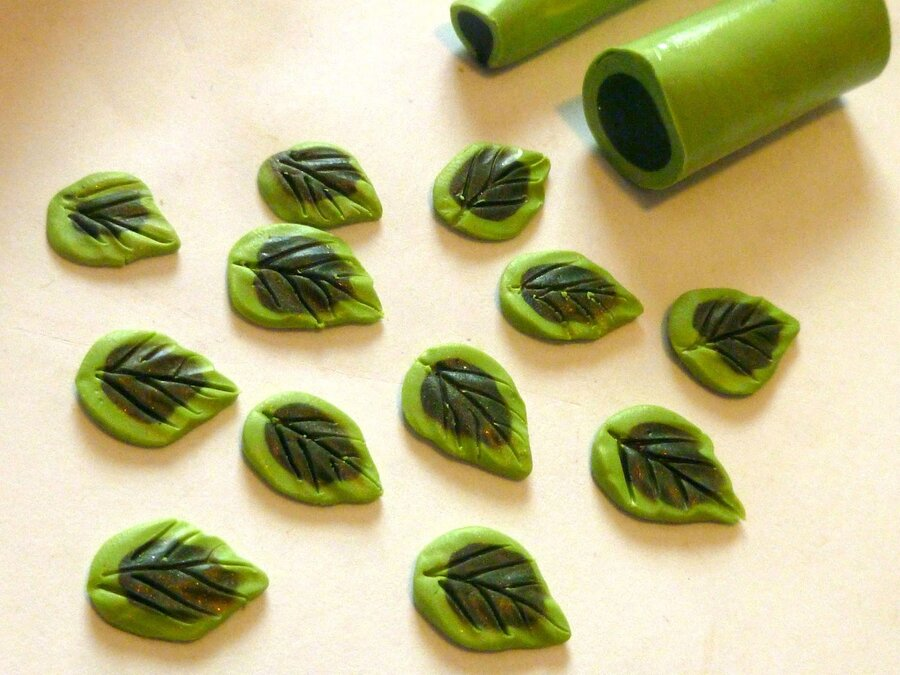 Next, I make a clay back on my frame and then start laying the leaves one at a time. This is a time-consuming process that will cover my entire sculpture.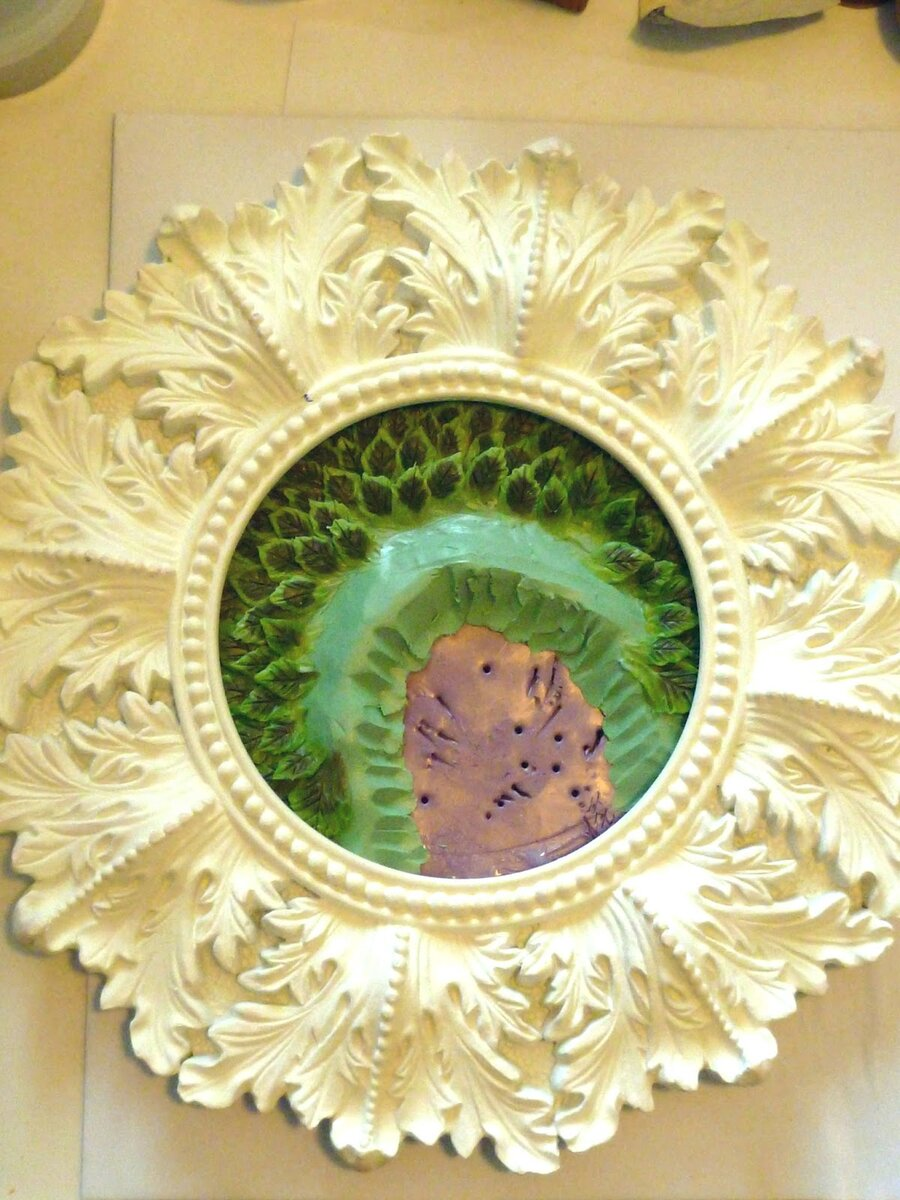 The dragon is attached to the frame back with craft wire and liquid Sculpey, useful material for any sculptor. It works like glue you can bake.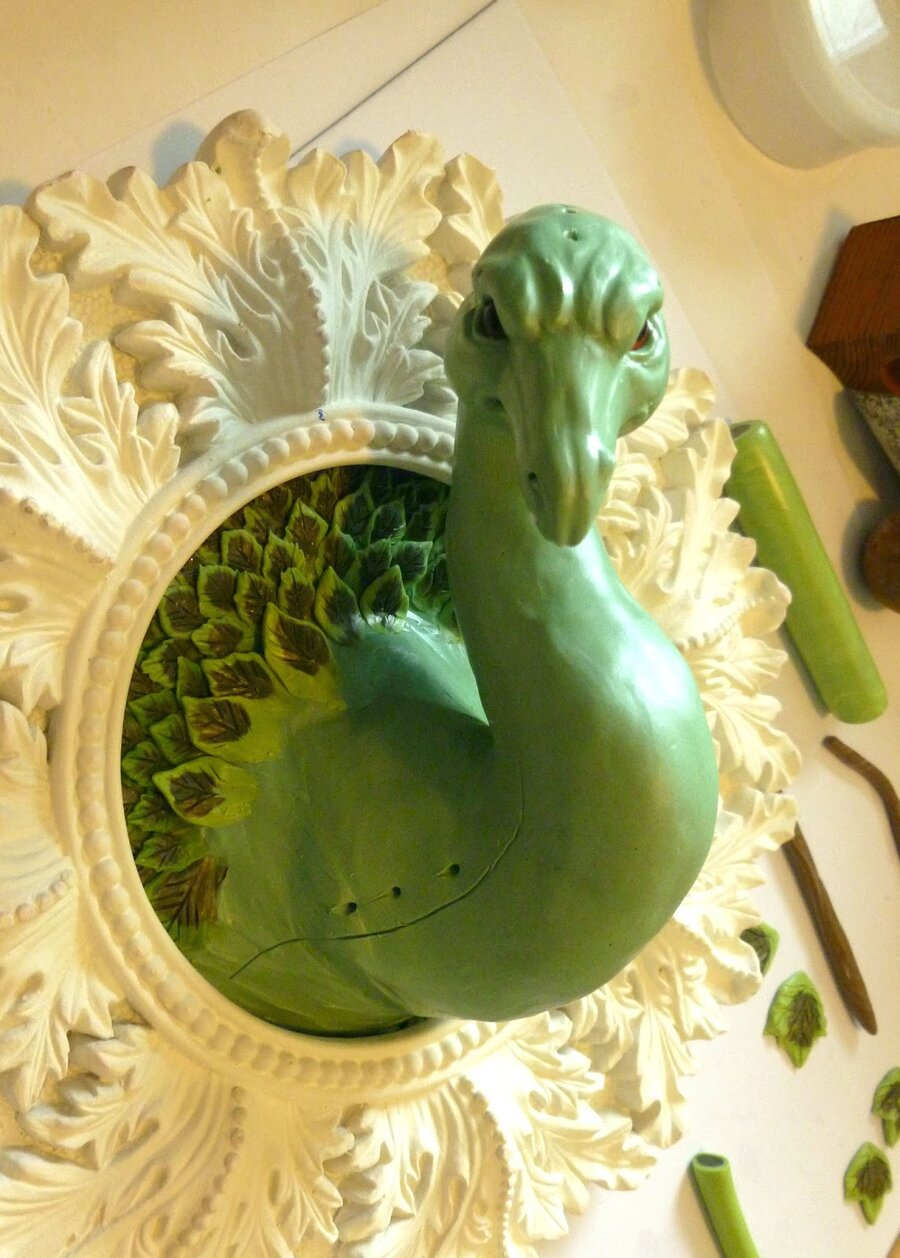 I didn't want my forest dragon to just be green leaves, he needed a bit of contrast. So I started working on little roots that would go in and out along his neck and eventually sprout out the top of the dragon's head like a treetop.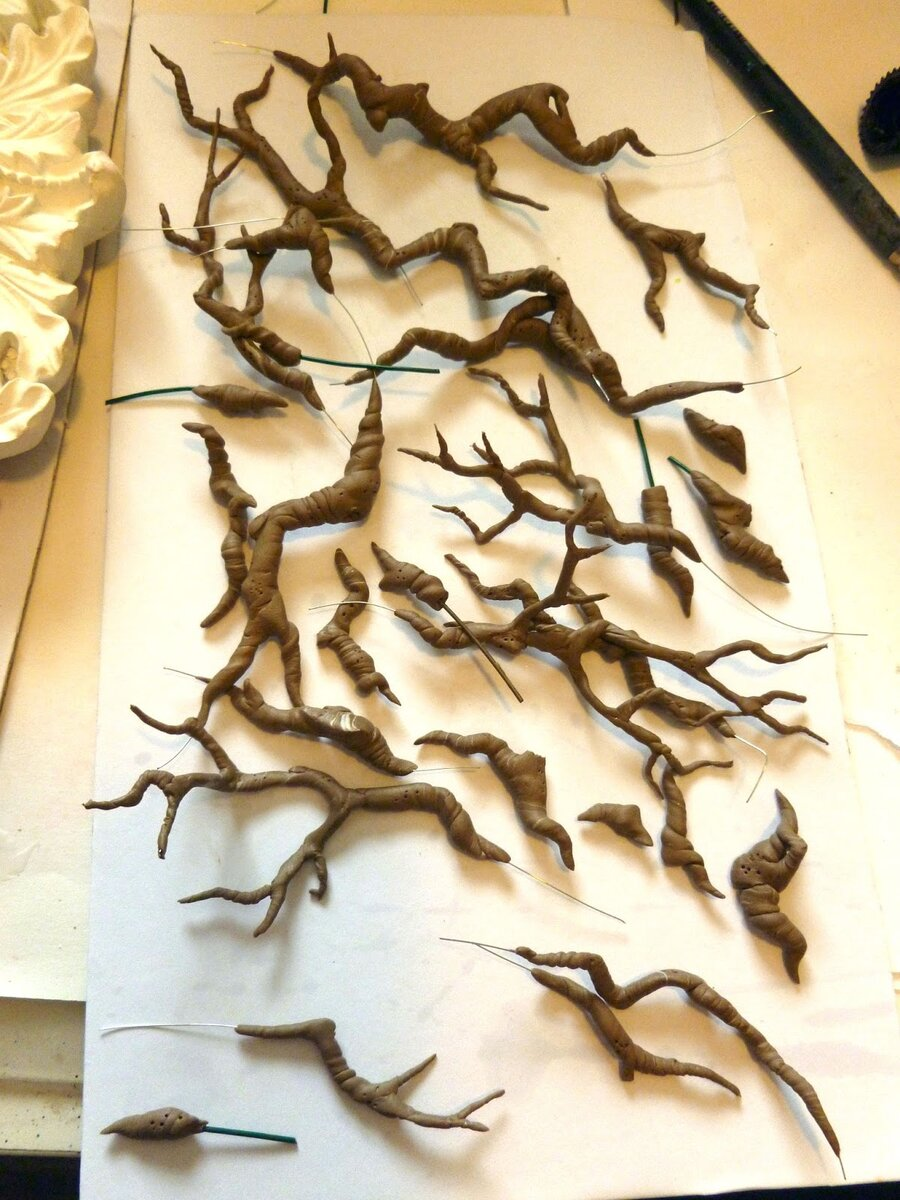 After the roots were all sculpted, I began incorporating each one into the leaves and along his neck. I even added a few to his throat and under his chin.
The roots in place, I started on the chest scale leaves of my piece. I made these leaves a bit lighter in color and much larger.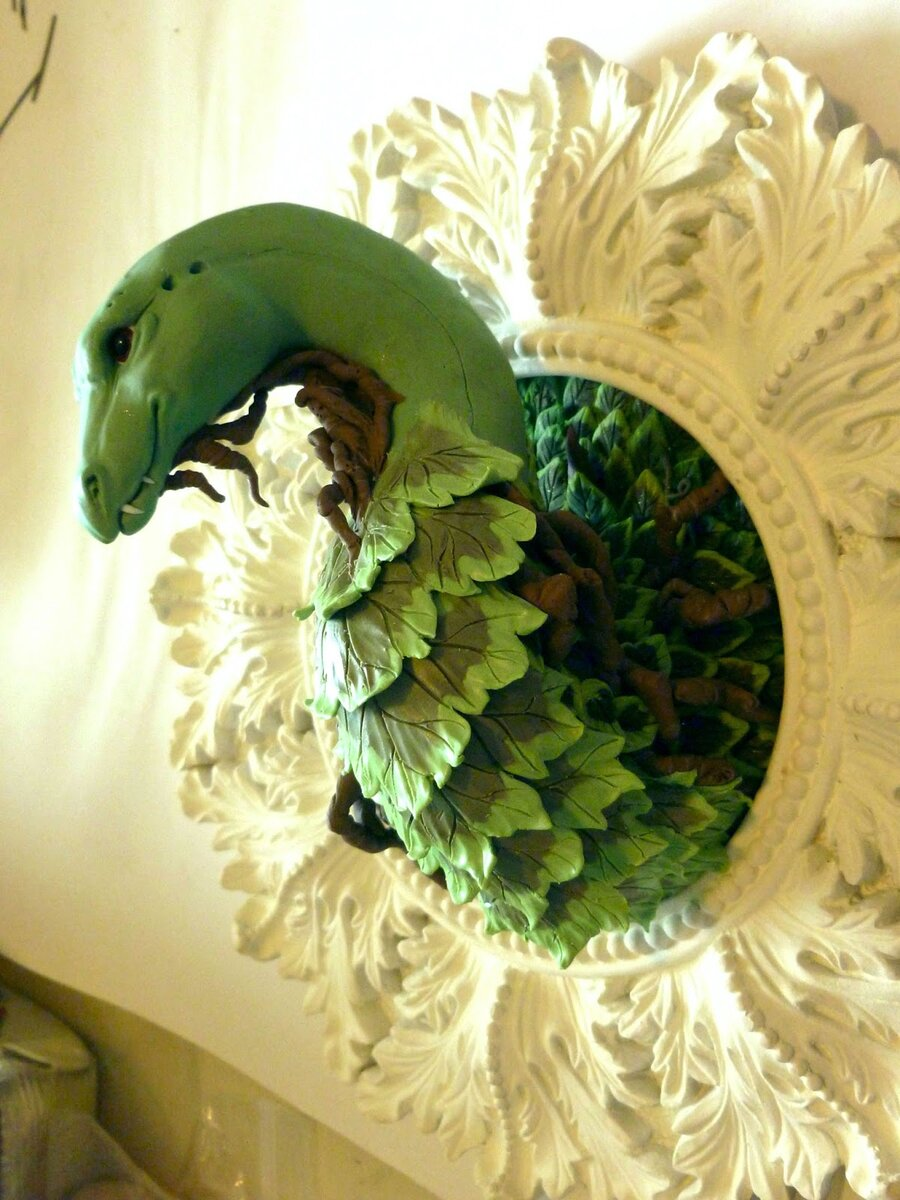 Before I got too far, I took a moment to start adding the branches to my dragon's head.
I wanted his crown of branches to look a specific way, so I took my time placing each one and rearranging them to get the right look.
Once the headpieces were where I wanted, I resumed adding the leaf scales until I had the neck completely covered.
Time to work on the face of my sculpture. The cheek and mouth scale needed to be much smaller than any I had done previously so as not to overwhelm the facial features.
My Forest Dragon just needed some paint on himself and his frame to make him complete.
⏰⏰NOTE: Each forest dragon is unique and made by hands, that's why a small deviation from the photos in the listing is possible. Handmade by skilled engravers, rather than mass-produced or mechanically produced. It will take about two weeks to arrange the delivery for you. After we get your order, we will arrange an engraver to make it for you. If you cancel the order during engraving, we will deduct a 30% handling fee.
Product specification
Diameter: 5.9 in
Dragon Horn: 1.2 in