AUTO 7 COLOR CHANGING ENERGY SAVING & COLORFUL DECOR: The color will auto changing into red,green,blue, yellow,pink, purple and white lighting.The automatic solar powered light has a solar panel that absorbs sun light during the day to convert sunlight into electricity to recharge the AA Ni-MH battery (included). Solar power lights automatically turn on at night and turn off at dawn which enables led pathway light conserves battery life for when it's needed most.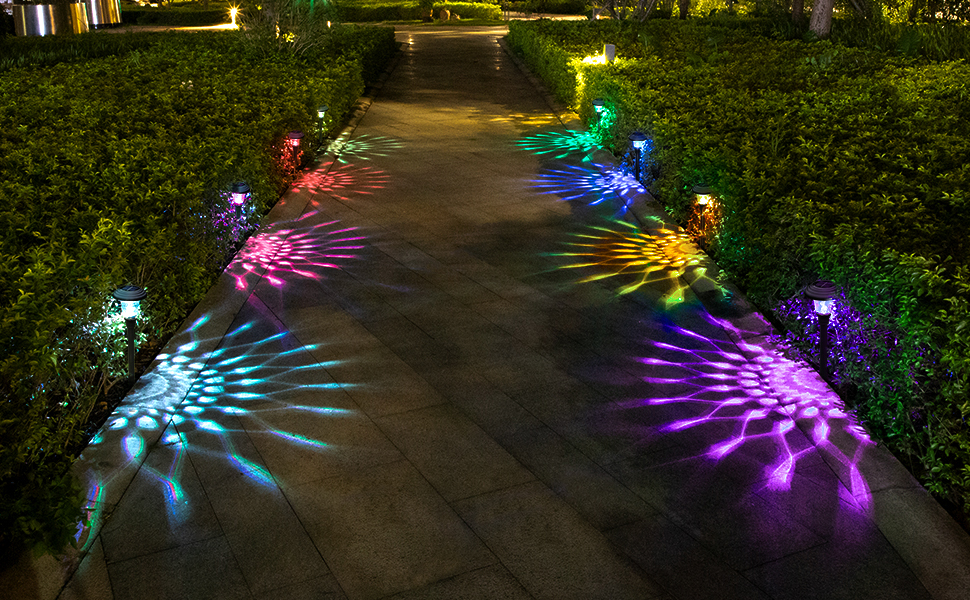 Quantity:
8 x B&G Beautiful Gardener 7 Color Changing Solar Path Light
Specifications:
Dimensions:16.54" in height x 4.72" in diameter
Lighting effect:The color will auto changing into red,green,blue, yellow,pink, purple and white.
Material: stainless steel + ABS plastic
Battery: 1× NI-MH AA 900mAh rechargeable battery (pre-installed)
Kelvin Value of Bulb: 6500K LED (colorful, high contrast)
Waterproof:IP65
Powered Source: 100% solar powered
Charging Time:6-8 hours (under enough sunlight)
Working Time: 8-12 hours
Features:
B&G Solar LED pathway Light is covered with a Hexagonal Lattice glass diamond-patterned lamp-shade for a fancy lighting effect on Ground. Adds unique decorative charm to any landscape; ideal for garden,lawn,patio,yard,walkway and driveway. No worries about rain, snow, frost, or sleet.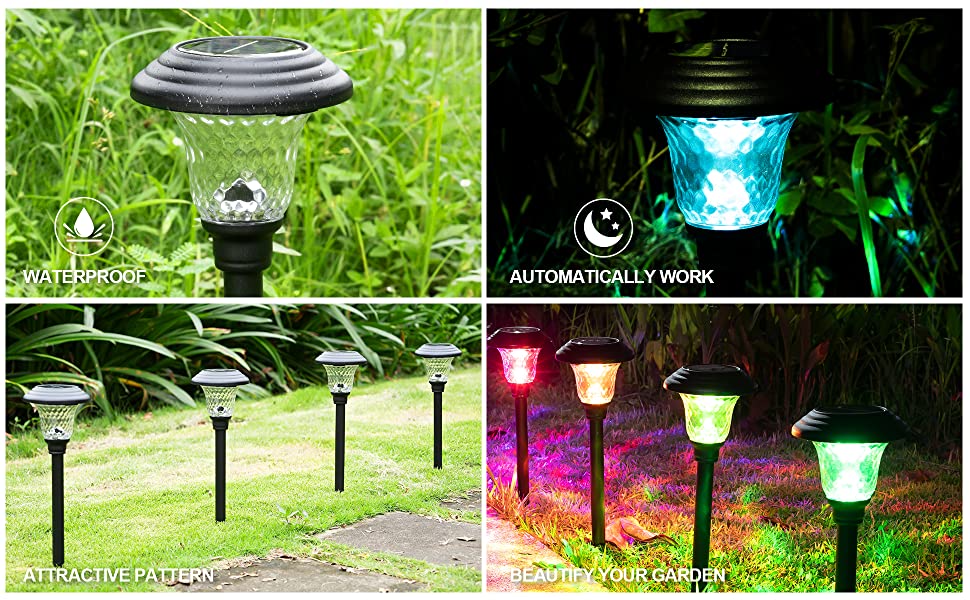 EASY ASSEMBLY & USE: In-ground solar light is out of the box with ease. No addition tools required to install this solar ground lighting outdoor. Wireless setting up and operation with this LED solar landscape lighting. Quickly install this modern solar ground garden light by pushing this glass solar landscape light outdoor into the ground.
The solar light has a solar panel that converts sunlight into electricity. During the day, the converted electricity is stored in the rechargeable Ni-MH batteries. At night, the solar light is powered by the batteries using the electricity stored during the day.
Winter Tips:
Keep debris and snow off the solar panel to allow the batteries to recharge.
Charging the battery:
For optimum performance, it is best to install the solar light in full, direct sunlight and let it charge for 10 to 12 hours before the first time use. Allow the light to run at least 8 to 12 entire charging and discharging cycles to reach the maximum capacity of the battery.
Common failures and solutions:
The nightly runtime for the lights is short:
1, The battery is not fully charged. Install the solar light in an area where it can receive the maximum amount of full, direct sunlight.
2, The battery is worn out. Replace the old batteries with the fresh ones.
The solar light does not turn on at night:
The location is close to other light source. Relocate the solar light or eliminate the other light sources.